Import House - Athens, OH
Athens Address
Manager: Karen McGuire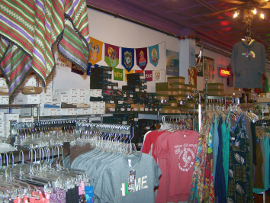 68 N. Court Street
Athens, OH 45701
T: (740) 593 - 5155

COVID Hours:
Monday - Thursday: 10AM - 6PM
Friday - Saturday: 10AM - 7PM
Sunday: 12 Noon - 5PM
We've got shoes for your dancing, hiking or walking happy feet; tapestries for your wall, bed or whatever you'd like to cover with a fun design. We also have lots of beautiful jewelry, stylish clothes, tobacco and hookah pipes and accessories.
We like to support local artists as much as we can (whether it be Athens based or more regionally local from our Ohio neighbors) by offering you many different artisan crafted items such as jewelry, wooden carvings, soap, clothing, buttons, glass art, dream catchers, and MORE!
There's plenty of shopping fun for everyone, so come check out our unique shop on Court Street today!